SILVER
Simply the best performing asset class in the last ten years, bar none, advancing from $4.10 in late 2001 to the low $40/ounce in latter 2011—10 times growth in 10 years. Is silver in your portfolio?
Why has your investment advisor not told you about it?
Find out why silver is still one of the most undervalued investments of our lifetime, even at $40/oz.
The Silver Guru addresses your questions and educates the public as to why every individual needs to own silver now in order to preserve and grow their wealth.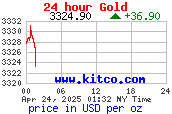 HOW MUCH HAVE YOUR INVESTMENTS GROWN LATELY?
In this time of economic uncertainty, government irresponsibility, and fiscal foolishness it seems as if there is little to comfort you and me in knowing where to turn to preserve and grow our financial assets. Fortunately, we have history on our side to learn from, if we know where to look.
Historically, gold has always been the sanctuary to which the wise flee in times of economic uncertainty. However, when gold approaches $2000 an ounce it is hard for everyone to afford. That is partly why this site exists, to illustrate the wisdom of acquiring "the poor man's gold"—silver. Virtually everyone can afford to set aside $40, $50 or even $100 to insure that there will be something to absolutely preserve what they have worked so hard for, for themselves and their family. Silver will do exactly that.
In fact, on this site you will see just how silver represents perhaps the best undervalued investment of our lifetime.
TIMING IS EVERYTHING
Certain asset classes perform best at certain times in the overall economic cycle. At times stocks perform best, sometimes real estate, yet at other times it might be bonds, currencies or commodities. In today's economic climate we are in a cycle (roughly from 2004 to 2016 or so) where commodities are reigning supreme in highest returns to investors. Silver is the shining star of them all, and, silver fundamentally has more going for it than any other current investment. Yes, there is a downside to investing in commodities; in general they do not provide an income stream. However, their appreciation and ability to preserve your capital are unmatched during such times of political, economic and social upheaval, times we are experiencing today.
While we believe that silver represents the most undervalued investment opportunity of our lifetime, it is also one of the most manipulated and volatile markets in commodity history. As such, it can be exceedingly dangerous for the average investor to participate without doing their due diligence and fundamental research. For instance, right now (mid-October 2011), while silver is absolutely long term one of the best possible places to put a portion of your protfolio, it is not the right time to buy at this particular moment. For details on timing we offer our services in the link above. That said, it is unquestionably valuable to hold a portion of your investment dollars in precious metals; however, there is a right time to enter any given market.
We invite you to carefully peruse our site. It is concise, to the point, and will astound you with timely information that most are not aware of concerning silver. It often takes a maverick to do the opposite of what the mainstream investing public is doing, in order to create massive wealth. Grasp your financial destiny today—learn about silver!